I ended my last post with the
lyrics
to a favorite holiday tune reminding me of the value of simplicity. The month of December (which is already TOMORROW!) will be a test of my intention. I was corresponding with my cousin yesterday via e-mail. She asked what our plans are for the holiday season and I began my response with "I'm hoping to keep it simple." Yet I followed with a whole list of week-to-week activities that don't pause until the third week of the month and then pick up on the 23rd and go full force again until the new year. As I punctuated my last sentence I thought "that doesn't sound simple." Although a few of December's activities are more or less set in stone, there are a number of others scheduled simply to get us out of the house on a predictably cold day. And of course, this is the time of year when so many events are planned citywide, especially happenings that attract the kiddies. And who doesn't want to do it all? Well, I really don't want to do it
all
, but will at least pencil in some of the more rare opportunities. (Breathe, keep it simple.)
Ready to "host" her first dinner party
We began this week by having friends over for dinner on a "school night." Originally we'd planned Sunday brunch then shifted the schedule because of an impending holiday party in a land south of the Wisconsin border. But this was a great opportunity for me to put some of last week's feast's leftovers to good use--with full disclosure to our guests. Roasted root vegetables and chickpeas were worked into a quinoa and mung bean entree, gravy was given new life as a base for a rich turnip gratin, cold broccoli and cauliflower salad was fluffed and re-served, and my homemade caramel decorated yet another apple dessert along with the rest of the
Purple Door Ice Cream
(made right here in Bay View.) And you can bet that I sent food home with our lovely guests. As I was planning last night's dinner, Ben, knowing how I can get carried away with the hors d'oeuvres spread, menu planning, table dressing, etc., reined me in a time or two and said, "remember this is a regular weeknight supper, keep it simple." He's such a wise man and my perfect counterpart! We had a wonderful time with our friends, even if all of us were up and down trying to keep track of the girls and make sure they had something on their plates at the "kiddie table." The night wound down with dessert and simple conversation in the living room. It was just right. (Breathe, keep it simple.)
We're beginning to open up more about the Santa thing with Vera. I talked to her a little bit this week and, after a short explanation, asked what she wanted Santa to bring her. She was in the tub at the time when the fun-shaped soap we'd brought home from our
hotel in Yellowstone
finally disintegrated (actually, this was the second of the soaps recovered from our trip). She said she wanted new bear soap. I said "Anything else?" and she responded, "just bear soap." How wonderfully simple. A friend told me her son wanted only a jar of honey for one of his first Christmases and a former classmate recalled that she would have been satisfied receiving a single bunch of green grapes when she was the same age. These confidantes went on to warn that things get a bit more complicated as the years go on--and the kids get wiser. But I'm going to savor the moment for this year and hope that she always keeps her wants so simple.
On the topic of simple things: during an errand run the other day I finally made it to the local cobbler shop to pick up some red shoe polish to shine up my secondhand Dansko clogs. Vera has a pair of thrifted red leather Mary Janes that also needed a new coat. I'd polished a pair of her shoes with her before, but the task doesn't seem to lose its luster (no pun intended.) Upon returning from the store, we excitedly rushed down to the basement box of old socks and other polishes set aside for shoe shining and I went to work. I always think of my dad when I polish shoes because he taught me at a young age how important it is to take care of your shoes (repair, polish, etc.) He had a fancy wooden box for his supplies that had a foot rest on it where you could settle while you or another polished your kicks. I also recall having to line up all the male servers one Sunday morning at a nice restaurant I worked at in college to show them how (and why) to polish their shoes. Hopefully Vera will carry on this tradition and care for her belongings to make them last. A simple wish, but valuable lesson.
Amazing what a coat of polish and a shine can do to secondhand kicks!
There's a framed original John and Yoko print hanging in V's room that says "
A Small Pig is a Happy Pig
." Our interpretation is that small is beautiful, less is more, simple is better... I refer to this idea frequently and was reminded of it again as we read from the library book
The Biggest House in the World
whose synopsis follows:
"A young snail dreams of having the biggest house—or shell—in the world. Then one day, his wise father tells him the story of another snail with the same dream. He grew and grew, adding bright colors and beautiful designs, until he found that his house came at a terrible cost. The young snail decides that a small, easy-to-carry shell might be best for a life of adventure and exploration."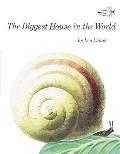 This was a pretty good find for a book randomly pulled off the shelf. It perfectly sums up my current goal for life and could provide inspiration for this typically "insane" season as well. My simple vision for December (as I wake up earlier than my little one each morning--even if just by 20-30 minutes): I intend to savor the still warm coffee my wonderful husband has left insulated in the French Press before heading out the door. I may sit quietly and sip, I may pick up a little knitting, I may do some reading, but it's going to be something for myself in the tiny quiet space I have alone in the partial darkness. (Breathe, keep it simple.)
What will you do this season to keep your life simple?