My favorite handmade dress
I often feel guilty that I'm interested in "fashion." I don't want it to sound materialistic; it seems like quite a "luxury" these days. But I allow myself to maintain this interest because it is a tremendously fun way for me to express myself. I've never been a fashionista, watched "Project Runway," or raided the racks at Barney's for designer pieces, but I have had an interest in fashion for as long as I can remember. In high school my sister had a subscription to Elle magazine, which, in my mind, has always been an example of cutting-edge, eccentric, over-the-top fashion. As a small-town girl, I felt cultured as I pored over these glossy pages of
haute couture
. And I may have mentioned once that as kids--even before Elle entered our home--my sister and I used to draw our own clothing catalogs. We would raid the paper tray of the Apple IIe printer and meticulously sketch outfits and accessories, then write descriptions and prices with correlating letters in a column to the right. How I wish I could dig up those renderings now! I considered my sister more of the fashion doll than me--afterall, she was the first one to make a pilgrimage to the then newly opened Mall of America. One year of high school we never wore the same outfit twice. Not necessarily because we had so many clothes, but because between the two of us--being only two years apart and roughly the same size--we were able to come up with enough combinations to keep 'em guessing. My fashion interests have greatly changed over the years. As kids we were dragged to secondhand stores and rummages regularly by our mom. During higher times, as an adolescent and well into high school, we loved to hit the mall with whatever allowance money or summer job savings had accumulated before it burned holes in the pockets of our Guess jeans. I gradually progressed to thrift stores in high school--before that was cool like it's become today--and would drive to the
Goodwill
across the state line so no one would see me. In college and just post-college--during my "retail therapy" phase, which coincided with when I had the most disposable income--I was more into the discount designer stores that one could find in a strip mall. Now I'm into rummage sales and back to thrift stores and have found a group of friends and fellow employees who enjoy scouring the racks and shelves at local charity shops just as much as me. It's literally one of my favorite activities to hit the nearest thrift shop to find a few versatile pieces to add to my "fall collection" or "spring wardrobe." Because of shifts in the economy, my personal values regarding material resources, and my dislike of chain stores and cookie cutter displays, I find that secondhand clothes shopping fits nicely into my lifestyle. In fact, I was realizing that I could take the
Ethical Clothing Pledge
and probably remain very happy.
50-cent favorite circular scarf
Of course, there's also my love of sewing for myself and my daughter. But even that has taken a thrifty twist. I no longer buy new supplies at the fabric store--unless I need the occasional spool of thread, zipper, or knitting needle, but even those can sometimes be bought secondhand. I'm excited when I find great patterns at thrift stores and flea markets, yards of fabric or large pieces of material (like sheets, tablecloths) that can be repurposed into garments or home decor. I've found gobs of yarn at thrift stores and rummages and have kept myself perfectly entertained with these nearly new supplies. Not only do I get to make and design quality clothing with my own hands, but I save a ton of cash. One of the "circular" scarves that I wear most frequently was really a piece of knit "ribbing" I picked up at a widowed man's rummage two ears ago for 50-cents. Strolling around
American Apparel
recently to get ideas I saw the
exact same
scarf
for $28 (though I will give AA credit for showing me 17,000 different ways to wear it.) I was recently wishing to spice up my "neck apparel" collection and today found a big piece of lime green fine sweater knit fabric in my basement cabinet, cut it in half, sewed it into one long circle, using the natural curl of the stockinette stitch as the "edging." Et Voila! I have a new scarf that's nearly my favorite shade of green.
My latest upcycled neckwear
Cool old tag from the green fabric (above)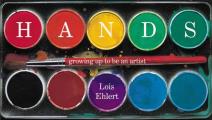 On the topic of neckwear, I was admiring the intricate felt poppy necklace worn by author and illustrator
Lois Ehlert
when we went to hear her speak at Milwaukee's Central Library last week. She's from Milwaukee and one of our favorite children's book authors so I couldn't resist meeting her. She was a charming, patient woman and shared a bit with us about how she creates her illustrations using collage technique from the bits and pieces she gathers and collects through her daily life. My favorite Lois Ehlert book is
Hands: Growing Up to Be an Artist
, which she revealed is about her childhood and what lead her to become an illustrator. It reminded me so much of my own upbringing in a household with creative parents--a mother who sewed, sang, cooked, and played piano and a father who built everything from treehouses, decks, and patios to shelves, cabinets, and our own wedding trellis. I only hope that Vera can gather some inspiration from our homestead and use it to become a creative person as well. In the meantime, she'll surely have an endless supply of fabric and yarns scraps as well as thrifted arts and crafts supplies with which to work.
Vera having Lois sign our copy of Eating the Alphabet
Lois discussing Oodles of Animals
Book Covers from Lois Ehlert